Webshop
development
Get ready for some of the best webshop
consulting in Budapest!
Webshop development ➡️ Hungary
Webshop development provides the opportunity to extend your sales strategy with a new sales channel for your business. We are ready to boost your sales growth by providing professional webshop development in Hungary!
Our team is prepared to use the most recent functional and technical solutions of ecommerce development in order to support you in extending your sales targets in Hungary.
Creating a webshop requires several functionalities, such as payment or logistic solutions, CRM and accounting systems, and so on. Including more relevant functionalities to your site can not only prove more convenient for you, but for your customers as well. 
Our webshop developer team is ready to build a professional webshop for any kind of business, including the webshop structure, the design and the different additional third party integrations , if necessary.
First, we will build the structure of your webshop, consulting with you about your business. Secondly, we will select and include all the additional functionalities according to the main properties of the webshop. Finally, we will create a unique, modern design according to your corporate identity.
The webshops we create are built on modern and reliable systems: our specific technical solutions help us to add any required functions you need. A clean appearance and an easy buying process are important drivers of the success of a webshop. For that reason, we create a simpler and cleaner appearance, and a transparent purchase process, which can provide better performance in your sales!
Relying on our developers' experience, we are ready to offer you up-to-date webshop development solutions to build up your online shop that increase your sales in Hungary!
Our webshop design and development specialties – every ingredient to create your perfect webshop!
1. SEO friendly webshop design 
The combination of our SEO experts and web developers guarantees a Google-friendly webshop. The webshops developed by Dog and Pony are created following the main SEO principles, which generates organic traffic from the beginning of the launch.
Get organic traffic from the start by owning an SEO friendly webshop!
2. Responsive – mobile-friendly webshop design
Every webshop developed by Dog and Pony is responsive: it operates perfectly with an excellent design on any type of device. We develop webshops that work flawlessly on desktop computers, laptops, tablets, or smartphones in order to make the purchase process simpler and more comfortable for your customers. 
Be available on any device!
3. User interface and experience 
At Dog and Pony, our UI and UX design team helps you make the navigation of your webshop as easy as possible. The UX / UI optimization of a webshop has a high impact on its conversion rate, as it shortens the purchase process, and makes the functions more obvious to the customers using minor, but sophisticated changes.
Own a webshop where it is easy to buy!
4. Variety of webshop engines
We will help you find the ideal webshop engine for your business! Our experienced developers are ready to implement any kind of webshop engine and payment method that fits your business and website. We work with woocommerce, shopify, Magento, Opencart, Bigcommerce, Prestashop, Barion, and more!
Let's find the optimal engine to increase your webshops's performance.
5. Optimized speed
The loading speed of a webshop has a significant impact on its Google ranking. However, the site speed also affects the user experience, which could decrease the number of your conversions if your site isn't fast enough. There is a significant connection between the bounce rate and the loading speed of a webshop: the slower the page the higher the bounce rate.
Be the fastest and overtake your competitors!
6. Modern coding
Our team of developers follows the newest coding trends and implement them into their everyday work. We employ only the most innovative coding practices like CSS3, HTML5, and Bootstrap that guarantee the long-term functions and the fast operation of your webshop.
Flawless innovative operations combined with modern coding techniques: that's how we do it at Dog and Pony!
7. Graphic design
Our designers will create a customized webshop appearance that will make you unique and different from your competitors. Tell us your dreams, and our designers will make them come true! Animated modules, infographics, unique icons…at Dog and Pony there is no limit to creativity. 
Enjoy an excellent modern appearance that sets you apart from the rest!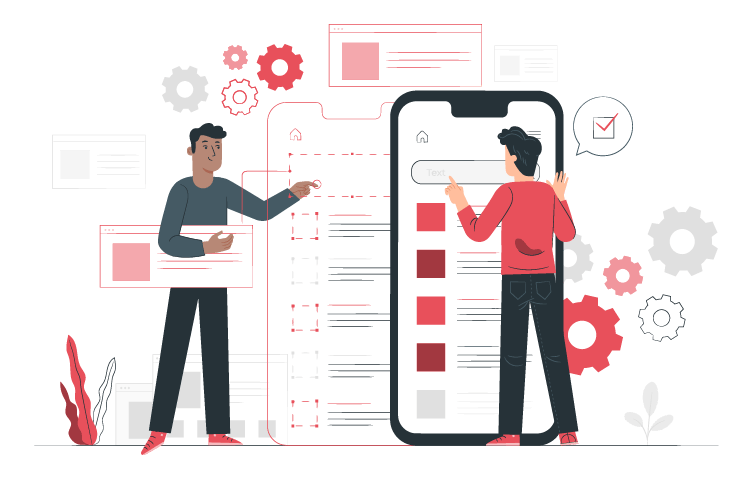 Our webshop development services – we'll get you what you need!
1. Webshop design and development
Tell us your story and give us as much information about your products or services as possible, and we will develop a webshop that fits your business like a glove and will make profits! Our digital marketing experts will create a clear, Google and user-friendly web structure, implementing all the required modules, functions and sections needed.
Let's make some profits online! 
2. Webshop maintenance
We will take care of your webshop after the launch too! Our webshop developers will do the plugin updates, the uploads of the new products or services, as well as the text or photo changes on the site.  Any kind of issues arise regarding your webshop, our developers will be pleased to help as soon as possible!
No worries: Dog and Pony will take care of your webshop!
Typical questions related to our services
other Web development and UI/UX design services
Our web design and development will be the elevator to your goals!