Performance
marketing
Need better results?
That's what our specialists are here for!
Dog and Pony: your digital
performance-based marketing agency
Looking for an accomplished company who can handle your marketing performance management? Then you are in the right place: Dog and Pony's digital agency is full of specialists who are more than ready to handle the analysis and optimization of your online advertising.
Let's make your business soar like an eagle!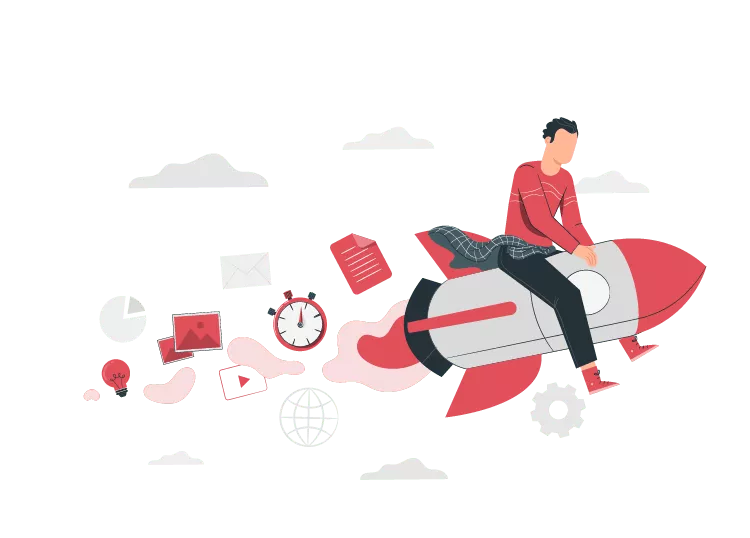 What do performance marketing managers do, and why does it matter for you?
Our performance marketing agency will essentially provide you with a form of online advertising that is always focused on accomplishing certain actions, such as a click, website traffic, or a sale.
This means we'll be able to measure each marketing action much more easily, and show clear results about what works and what doesn't, and handle your performance marketing optimization accordingly!
The benefits of leaving your performance marketing campaigns to our specialists
Here are just a few of the many advantages you can expect by working with Dog and Pony's performance media agency:
1. Optimizing the KPIs of your business
Key Performance Indicators play a crucial role in online marketing and in helping businesses reach their goals. No matter what you consider as a KPI (like the amount of sales you get from new clients), we can target these metrics quite accurately with performance marketing.
Since we'll be focused on providing you results, you can expect to optimize performance markers such as impressions, leads, clicks, or sales!
2. "Pay as you go" pricing model
Instead of paying an upfront cost, performance marketing services only require you to pay when your designated action occurs (like a rise in website traffic, a click on your ad, or a sale of your new product).
This basically means you only have to pay for actual results: if any online advertising activity doesn't meet the performance criteria, it won't cost you a thing!
3. Real-time ROI tracking
Thanks to the way performance marketing management works, it is very easy to measure and track your results, meaning you get a front row seat to clearly see exactly how much of a Return On Investment you got from a specific advertising activity!
This also means it will always be clear how much a performance marketing campaign cost you.
Performance marketing services
from our digital agency
As a full-service performance advertising consultant company, we are proud to put our multi-channel expertise at your service. The different channels which we can use for this form of marketing don't exclude each other in the slightest, so being able to handle all of them with our varied team of performance marketing experts only works in the favor of your business.
Here are a few ways we can handle your marketing performance optimization:
1. Marketing performance management and analysis
The basis of the whole optimization process: we will measure, manage, and analyze your marketing performance to maximize the impact of your advertising activities, and improve your ROI.
The way we can get this done for you is by focusing on the alignment between your business goals and marketing strategy planning, operation, and execution. This will of course involve a thorough data analysis so we can make grounded decisions about how to boost your business.
2. Lead generation and conversion optimization
A lead is essentially a person who convert from being a stranger to your company to someone who completes your form and/or wants to learn more about you and the services you offer. Dog and Pony will use different performance marketing methods to promote your business to potential customers and motivate them to buy from you!
3. Performance based Facebook ads from our agency
Social media marketing is definitely a channel with bountiful opportunities for digital performance marketing campaigns. As an experienced agency, we will find the best opportunities for your business to increase its conversions on Facebook, Instagram, or YouTube!
4. SEO performance marketing
If you're looking to pay for performance marketing services, you may want to consider the long-term methods that online marketing can provide. SEO (Search Engine Optimization) is definitely one of the best ways to keep your business in the game for many years to come and attract quality leads on a consistent basis.
With Dog and Pony's marketing performance optimization, we'll make sure your company get a higher rank in Google search engine results and attracts more potential customers!
5. Google Ads performance marketing
Of course, if you want to pay for performance marketing that brings you faster results, Google Ads campaigns are ideal for businesses who are seeking more immediate results. With Dog and Pony's management services, you'll get to experience short term optimization as well!
All in all, if you want to enhance the performance of your marketing activities in a cost-effective way, our digital agency's managers cannot wait to get started. If you need true specialists in this field, just contact the Dog and Pony team, and we'll handle the optimization of your company's online advertising!
Typical questions related to our services
WHAT IS A PERFORMANCE MARKETING AGENCY?
A performance marketing agency will be the one responsible for optimizing and measuring the results of each of your performance marketing campaigns, and finding the methods that work best in the case of your company. Methods like Google Ads and SEO all have their own advantages, but together, they can bring even better results. A performance marketing agency will also be motivated in bringing you success, since you only have to pay for the conversions!
WHAT ARE PERFORMANCE MARKETING CHANNELS?
Performance marketing can basically cover all methods used in digital marketing. This means that SEO (search engine marketing) and PPC (pay per click) campaigns can all be part of a digital performance marketing strategy. Organic channels like Google's search engine results, the new leads on your website, social media platforms, Google Ads can all be coordinated together to bring you better results.
HOW DOES PERFORMANCE MARKETING WORK?
Apart from setting the condition of the marketing action you wish to see (a click, a sale, etc), and only paying when that action occurs, digital performance marketing also works thanks to attribution. In other words, it a transparent method that will let you see exactly how much success you can attribute to the online marketing methods you are currently using and be able to clearly follow their impact on your ROI.
WHAT IS PERFORMANCE MARKETING?
Performance marketing is a broad term used in digital marketing to describe activities and methods where you only have to pay when a specific action occurs. Depending on the platform, this can be anything from a click, a new lead, a sale, a filled-out contact form, and more. This "pay as you go" pricing model has made it a very popular request made by companies when outsourcing their marketing activating to a digital agency, since if the results are not there, you do not have to pay anything.
Other Digital marketing services
Your online success is our top concern!