Website
development
Dog and Pony will create a site
worthy of your business!
Website development ➡️ in Hungary
Developing a website belongs to the "must have" category for every kind of business these days. We are ready to build up a professional website for your business providing a logical web structure and a unique website design in Hungary!
 Our team is prepared to use the most recent technical solutions of website development in order to create an attractive site for you in Hungary. If you are thinking about building an up to date online presence for your business, one of the most important drivers of success is to have a great website.
The quality of a website is mostly determined by its user interface and design. Nowadays everybody is in a rush, we all know that users are incredibly impatient. They would like to find what they are looking for as soon as possible, so if they waste their time because of slow loading times, an unclear site structure, or a bad website design, they are more likely to bounce back from your website.
The usability of a website is an important driver of conversions, which is exactly why we create clean website structures with professional website designs that provide great user experience for all your visitors. Nowadays, it is essential to own a responsive website, which can provide the same performance and experience for the users on every device. Our web developers are ready to create an effective website for your business in Hungary, which will enhance your ROI regardless of what device it appears on (desktop, mobile, etc.).
Our designers will take a modern, professional approach in order to make your site attractive for your visitors. As for the great user experience of the site, it will be provided by building a suitable and effective web structure according to your business activity.
Our web design and development specialties – we like to think about every aspect
1. SEO friendly web design
The combination of the work of SEO experts and web developers gives us the opportunity to build a webpage which is already Google-friendly. The roots of a new webpage could be critical from an SEO point of view. It is necessary to follow the rules of SEO in the beginning of the web development process, because the changes of those site cornerstones could require a lot of work in the future. 
Get free organic traffic by developing an SEO-friendly website!
2. Responsive – mobile-friendly
The websites developed by us are 100% responsive: the design looks excellent and operates perfectly on any screen size. It does not matter if the user is on a desktop computer, laptop, tablet or smartphone. We guarantee that the site will work properly on any device and it will satisfy the visitor's needs!
Be excellent on any size of device!
3. User interface and experience 
At Dog and Pony, we offer UI and UX design to help the visitors of your website to navigate as easily as possible, find what they need, and convert. UX / UI optimization has a high impact on the conversion rate of a site, as it allows your site to be easier to use while also creating a better website aesthetics.
Own a site which is easy to use!
4. WordPress web design
WordPress is one of the most widely used website platforms with an especially user-friendly admin surface. Our team of WordPress designers and developers create customized sites for any kind of business. The WordPress sites developed by us are fast, responsive, SEO-friendly, with a unique and customized design.
5. Optimized speed
The loading speed of a website is one of the most significant ranking factors that Google takes into consideration. The speed of a site is a highly important factor not only because of SEO purposes, but it has a high impact on user experience as well: a slow webpage increases the bounce rate of the visitors.
6. Modern coding
Our developers are always up to date about the new coding trends, we work only with the most innovative coding techniques employing the current coding practices like CSS3, HTML5 and Bootstrap. The websites developed by us are built by innovative coding practices that guarantee compatibility a longevity.
7. Graphic design
Our designer team creates customized website plans before the development process, so our clients can see the website design and give feedback in the beginning of the project.  After the approval of the plan of the creative website design our developers will bring the website to life!
8. Webshop development
We create automatized and innovative webshops. Our developers are prepared to implement any webshop engine and payment method to your site, creating a webshop that works properly in the long term for your business.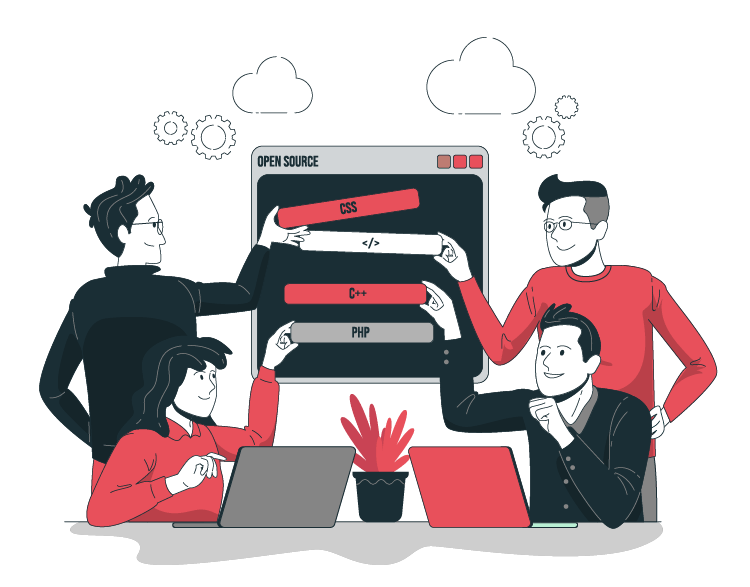 Our website development services – we'll handle everything!
1. Website design and development
Tell us your dream about the perfect website that would fit your business, and our designers will make your imagination come true! Our online marketing experts will help you in the planning process: they will create an ideal (Google and user-friendly) structure for your site, and they will also collect and show the required modules, functions, and sections. If the specification and the design of the website is ready, our developers will bring it live online.
2. Website maintenance
We take care of every website we developed! We will do the plugin updates, the installation of the newest version of WordPress, the text or photo changes. Even if you widen your services and a new landing page is needed for new services or products, we will help you in the design and development. No matter what kind of issues arise regarding your website, we are pleased to help as soon as possible!
3. WordPress admin tutorial
Get the basics of WordPress and be fully prepared to edit the content of your website! We create customized WordPress tutorial documents for all of our clients, which help them to create all the basic content changes on their own. We also provide a short training online where one of our account managers goes through the document, and shows all the functions necessary for content editing!
Typical questions related to our services
Other Web development and UI/UX design services
Our web design and development will be the elevator to your goals!